AIKa
Series
AIKa R-16: Virgin Mission
Episode
1-3
Original Airdate
July 5, 2007
Next Episode
AIKa Zero
This Prequel series consists of three episodes. It is the earliest point in the timeline and the debut of Karen Minamino and Eri Shinkai. Their Opening and Ending are Sailing To The Future and Rise
.

High school student Aika Sumeragi, with her sharp mind and athletic body, has passed the C-class Salvager test and gotten a C-class Salvager license. Despite being sixteen years old now, she is still being treated as a child by Gozo Aida. Having finally gotten a license, Aika started putting up posters offering her Salvager services. At that time her classmate and president of the Treasure Hunting Club, Eri Shinkai, posted a request for her. Aika gladly undertook Eri's request and boarded Eri's private cruiser. Onboard she learned about the mysterious girl called Karen who is the reason for the request. That night Aika was assaulted by high school girls and Karen was almost captured. What secrets does Karen hold?
Characters
Edit
In the future she helps Gozo in his business, but now she is a newbie C-class Salvager still in training. She is always late for school. Her behavior is somehow similar to Aida Rion, Gozo's daughter and her future "sidekick". She likes machines.
Knowing that Aika has a Class C license, she roped Aika in to help with the investigation of Karen's mystery.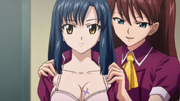 Karen has a butterfly insignia on her left breast. The insignia on magnification is made up of minute numbers which decodes to the sentence "the gate of the truth will be opened by the sleeping butterfly" and a map coordinate, which is where the group is heading to.
A teacher of the school Aika attends. Also the teacher adviser of Treasure Hunting Club. She turned out to be an enemy, having controlled three of the students with electronic devices to attack Aika and Eri and also tried to take Karen away. Her true identity is an agent from a mysterious organization sent to observe Karen.
Episode List
Edit