AIKa:ZERO
Series
AIKa Zero
Episode
1-3
Original Airdate
July 5, 2009
Next Episode
Agent Aika
This direct sequel to
AIKa R-16: Virgin Mission
  consists of three episodes. This feature new characters and old/returning characters (
Neena
and her
brother
).Their Opening and Ending are
FLYING KID
and
Dream Hunter
.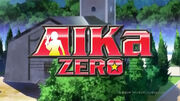 Each episode deals with Aika mysterious power "Zero".
Howaitonaitsu 「ホワイトナイツ」 2009-07-05 Premiere date on TV. 2009-08-25 OVA release on DVD & BD
E.T.A.I. 「E.T.A.I.」
Zero 「ゼロ」
Characters
Edit
E.T.A.I.: Mysterious girl with some connection to aliens. Acts as Miyu's bodyguard.
Karen Minamino: Works at a maid cafe. Has little to no concept of personal space.
Eri Shinkai:Tagging along for the adventure and provider of equipment.
Neena:Attending the school under her brothers orders.
This is the only season of Agent Aika which includes full bath scenes. This is also the only season which includes intentional jiggling breasts, as shown in the bath scenes, Eri's breasts will constantly jiggle, and a sound effect plays when they do.
Ad blocker interference detected!
Wikia is a free-to-use site that makes money from advertising. We have a modified experience for viewers using ad blockers

Wikia is not accessible if you've made further modifications. Remove the custom ad blocker rule(s) and the page will load as expected.