Gozo Aida (相田郷造) was an active industrial spy, but rode on the chance of the catastrophic earthquake and entered the salvager business, setting up K2 Corporation, a Salvaging operation. He is Rion's father. He prefers to hold onto the old ways (cheapest price for the best service) and principles of doing business, which does little good to the business. His past with Aika goes far back.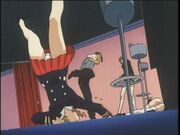 Voice Actors
Edit
Akio Ootsuka (Japanese)
David Rankin (English)
He is 51 years old during the duration of the original Agent Aika
Ad blocker interference detected!
Wikia is a free-to-use site that makes money from advertising. We have a modified experience for viewers using ad blockers

Wikia is not accessible if you've made further modifications. Remove the custom ad blocker rule(s) and the page will load as expected.