Antagonist of AIKa Zero.
AIKa Zero
Edit
She uses students in her school to take over...something. From a wealthy family, she became very popular at her high school and became student council president which she renamed White Knights and her lover E.T.A.I. When Aika leaves her to stop the rocket, Neena Hagen (who was spying on her) knocks her out and she and her brother examine her and E.T.A.I.
When she got her powers from the aliens she has the ability to create constructs that probe the body and mind of girls with weak wills. She has combat skill above the other
White Knights
but she is weak due to use of her alien powers as she was one-shot by Aika.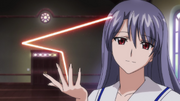 She has an close relationship with her. She was introduced to her after her encouter with the aliens.
Appearance
Edit
She looks similar to Karen but silver hair and green eyes. One interesting feature is in episode 3 when she crouches down she seems to have a strange bulge that no other character has in the series.
Ad blocker interference detected!
Wikia is a free-to-use site that makes money from advertising. We have a modified experience for viewers using ad blockers

Wikia is not accessible if you've made further modifications. Remove the custom ad blocker rule(s) and the page will load as expected.