The girls - and their panties - are back!
White panties
Edit
Many times during the anime, the girls wearing dresses or extremely short skirts will get an upskirt shots, showing their panties, which are usually white. This can come in the form of fighting, fainting so their skirt goes up giving exposure, and even very awkward camera views, even coming from straight under the girl, for the sole purpose of exposing their underwear. Sometimes, when the camera focuses on a girl's, the shape of the girl's labia can be seen against the fabric of her panties if the cloth is stretched too tightly over her genital area.
One of the few pantsu that are different are hers, which are Black with trim.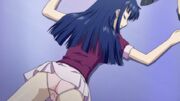 ==
Karen's
Panties==
To differentiate her from the rest of the cast she was given pink panties in AIKa r-16
Bikini bottoms
Edit
In Aika R-16 there was a episode that was on a Beach. Most of the girls were the Bikini squad.
Bikini Thong
Edit
AIka R 16 episode 2 featured many characters in bikinis.
In a few scenes there are some in lingerie most notably Neena, Risako, Karen and Eri.
Metal Panties
Edit
Lagu and Neena Hagen's red panties.